Addie at 5 Weeks
Addie at 6 weeks
Addie at 8 weeks
Addie at 4 months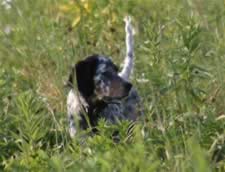 Addie at 6 months
Addie.
Addie x Doc -- The "Medalists"
Whelped February 23rd, 2014.
Three females and four males.
Theme: The "Medalists"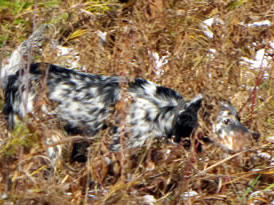 Addie has been an excellent hunter since hitting the fields with us at 4-months old. She is very prey-driven, loves the cover, and has incredible bird sense--always has. At home she is a darling, loves to sleep with us. She is very smart and a joy to be around. Retrieves and has been very easy in training. Addie weighs around 40lbs.
Doc, like Addie, is also very driven and loves to please. He has beautiful conformation--nice, compact body, beautiful head, thick thighs, perfect tail hold--he is a beautiful sight to watch run and work, he just takes my breath away. Doc is very attentive, sweet, and a bold hunter with incredible bird-find abilities.
These pups will be have loads of prey drive and stamina. They will have the physical abilities to carry themselves beautifully, gracefully, and without effort for long periods of time. They will have the boldness and desire to search out game at whatever range you let them and are comfortable with. They have excellent potential and will have very loving, loyal, attentive personalities.
Puppies will be ready to go to their new hunting homes the weekend of April 19th-20th, 2014.
Pick-up date most-likely Saturdy, April 19th. The flight date Sunday, April 20th.
All puppies from this litter under 10 weeks old are currently $1,000.00 (cash price).

Meet the Medalists:

Temporary
Name

Current Photo


#1 - Male

Bode









#1 Male "Bode": Belton - Tricolor (Wears Green collar)


#2 Male

Curt



#2: Male: "Curt" - Orange Belton (Yellow collar).




#3 - Male

Gus




#3: Male: "Gus" - White, Black, and ticked. (Orange collar)

#4 - Male

Ligety







#4: Male - "Ligety" - White/Orange. Eye patch. Small spot on back. (Blue collar)




#5 - Female

Sage





#5: Female - Sage - Tricolor Belton. (Pink collar)




#6 - Female

Alana





#6: Female - Alana - White/Orange (Pink collar)




#7 - Female

Meryl


7: Female: "Meryl": Blue Belton (Pink collar)