Laurel Mt. Llewellin Setter Puppies
Laurel Mt. Llewellin Setters are DNA-certified and registered with the Field Dog Stud Book.
We sell to hunting/falconry/trial families only. No "pet-only" homes, While the Llewellin Setter is a most-excellent companion and family dog, they are hunting dogs first.
When purchasing a pup from us, you will receive a guaranteed healthy puppy with excellent bird dog potential. We only breed dogs if they are of excellent health and have proven themselves as an excellent hunter in the field. We own and breed only from the best-producing Llewellin Setter lines—lines that consistently have been proven to produce excellent bird dogs. We have dedicated the rest of our lives to the preservation of this amazing breed of upland bird dog of which we feel no other compares.
Laurel Mt. Llewellin 8-week old puppies start at $1,000 (cash price), male or female, any color, unless otherwise noted. Puppy prices increase at 10, 12, and 14 weeks. Deposits are $200.
Be sure to check out the Life With Llewellin Setters Blog for all the latest news, photos, articles, etc.
Click here for information concerning deposits/picking policy/reservations/ and flying your Llewellin Setter Puppy.
Available Llewellin Setter Puppies
Nashua x Count
Fantastic litter whelped June 9th, 2014.
Nash pedigree. Count's pedigree.

Gizzy (female orange belton)
Pups whelped June 9th. The pups are 13-weeks old (as of 09-08-2014), have had 3 sets of puppy shots, and are $1,200. Males and females available.
Click here to see the available pups from this litter.


Gorgeous males available! Click here to see the available LML Llewellin Setter pups available.
Fantastic repeat breeding. Very colorful, heavily-ticked pups. Excellent, natural, beautiful bird dog puppies. Both L-Bird and Steele are hunting fools. Bird-finding machines. Very classy, sweet dogs. This will be L-Bird's last litter as she is now 7. If you following the Life with Llewellins blog, you've probably heard all about a pup I kept from this pairing--Cowboy. Gorgeous, sweet, a very stylish flashy dog and absolutely natural at everything.
Pups whelped June 30th and are now 10-weeks old, have had 2 sets of puppy shots, crate training, etc., and are currently $1,100.00
See the available Males by clicking here.
Well, finally, the event many have been waiting for--the breeding of Kea and Count. Pups whelped July 1st, 2014. They are now 10-weeks old, have had 2 rounds of puppy shots, and currently cost $1,100.00.
Upcoming Fall - Winter 2014/2015 Litters
We are putting together our planned Fall/Winter breeding list for those wanting to secure a puppy for next year. Check back as we add more details.
Rue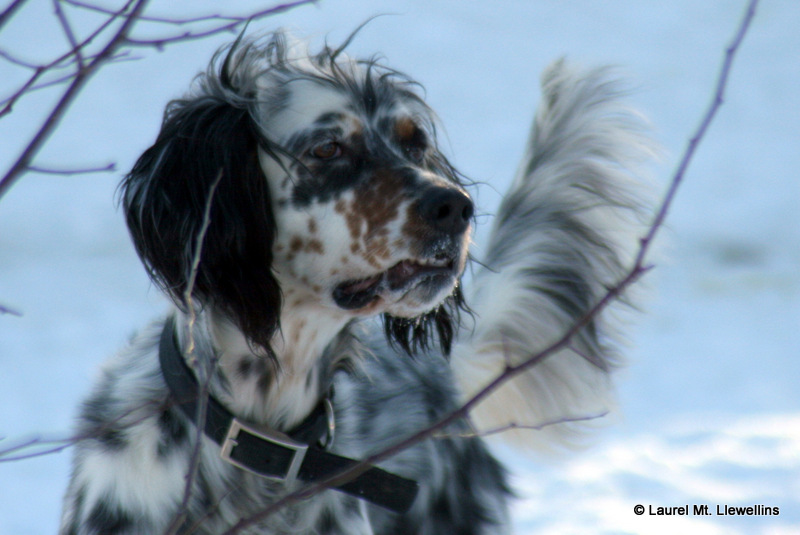 *Note: At times, we may decide to use an alternate sire. If the bitch is not accepting the intended male, or we decide another male is more suitable, etc. Your reservation stays with the bitch.
Older Pups, Introduced, and Started Dogs
Contact us about the possibility of an older pup, an introduced, or a started dog. Occasionally we may have something available.
Llewellin Setters for Adoption
Contact us about the possibility of adopting a Llewellin Setter puppy or older dog. Occasionally we know of something available that might be an older, retired dog or a pup with special needs (for example, deafness). Let us know what you might be looking for/what you can handle, etc. Dogs for adoption are usually free, except for transportation costs, etc. Any issues are not life-threatening, dogs are in excellent health, etc.