Laurel Mt. Llewellin Setter Puppies
Laurel Mt. Llewellin Setters are DNA-certified and registered with the Field Dog Stud Book.
We sell to hunting/falconry/trial families only. No "pet-only" homes, While the Llewellin Setter is a most-excellent companion and family dog, they are hunting dogs first.
When purchasing a pup from us, you will receive a guaranteed healthy puppy with excellent bird dog potential. We only breed dogs if they are of excellent health and have proven themselves as an excellent hunter in the field. We own and breed only from the best-producing Llewellin Setter lines—lines that consistently have been proven to produce excellent bird dogs. We have dedicated the rest of our lives to the preservation of this amazing breed of upland bird dog of which we feel no other compares.
Laurel Mt. Llewellin 8-week old puppies are $1,100 (cash price), male or female, any color, unless otherwise noted. Puppy prices increase at 10, 12, and 14 weeks. Deposits are $250.
Be sure to check out the Life With Llewellin Setters Blog for all the latest news, photos, articles, etc.
Click here for information concerning deposits/picking policy/reservations/ and flying your Llewellin Setter Puppy.
Expected Litters:
Addie x Cowboy
Laurel Mountain Majesty "Addie"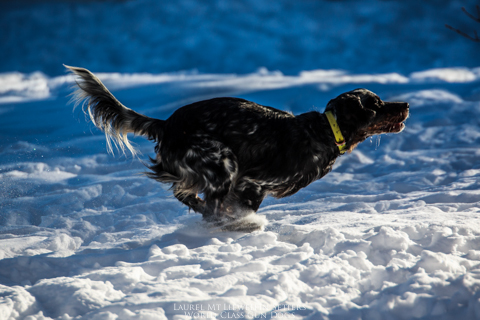 Ride a Cowboy "Cowboy"
Addie's puppies should arrive around November 16th, 2015. Ready to leave approximately the second week of January 2016.
Look out because these pups are going to be something else. Addie and Cowboy have it all--they are absolutely gorgeous, stylish, noses to die for, and are brilliant. They have non-stop hunting desire and fantastic personalities. They have both been very trainable, teaching me more than I could ever teach them!
These puppies will be colorful to say the least as both Addie and Cowboy are heavily-ticked tri-colors. They should be right in the middle of the size range as adults. Addie is 35lbs. Cowboy 40lbs.
Reservations for males only currently available.
Mia x Count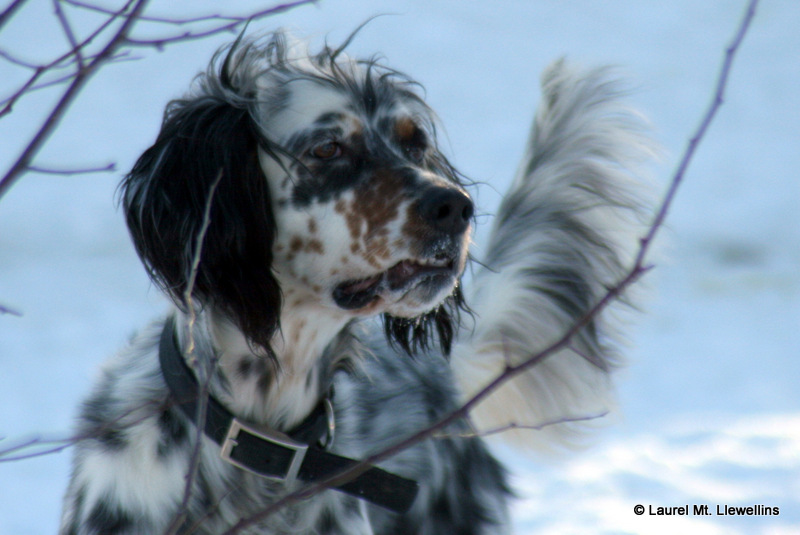 Steele Water Maria (Mia)
Count Royal
Talk about a perfect match! Count and Mia not only look very much alike, they are about the same size and have very similar personalities. Count and Mia both weigh around 48lbs. They are drop-dead gorgeous and we are constantly stopped by everyone asking about and complimenting them. Both are excellent bird dogs and the absolute favorites to hunt over. They have loads of style and the personality that goes right along with the looks and abilities. Mia's last litter produced absolutely phenomenal puppies. Mia is out of our smashing Jenna and Steele breedings. Natural in every way, I simply took them to the grouse woods. This is exactly what we strive to produce--a natural bird dog with tons of style, intelligence, and a best-friend personality.
Mia will whelp her puppies around November 17th, 2015, puppies leaving mid-January 2016.
Reservations available.
Santana
Santana & Boone puppies--yahoo! I'm pretty excited about this pairing. I've always wanted to pair these two and it has finally happened. If you don't know Santana, well, she's known for her incredible pups. She's absolutely gorgeous with a perfect build to go along with a fantastic nose, bird sense like you rarely see the likes of, drive, a lovely personality, and one of our best mommas.
Boone is a brother to our Count, Lady Bird, and Maddie. All absolutely incredible bird dogs that have produced the same. Boone is referred to as Mr. Hollywood for his stunning good looks and that fabulous curly top knot. I'll update with better photos of him as soon as I find them. Boone is a fantastic bird dog and my baby. He hunts for me and I enjoy every minute out with him. He is very stylish and regal. He has the nose, brains, stamina, drive to do it all.
Santana is due around January 10th, 2016, puppies leaving around the first week of March 2016.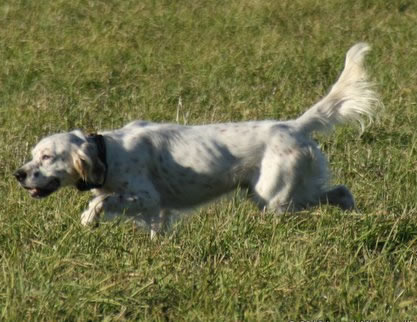 Cree darling is a daughter of Addie by Steele and a lovely gal full of hunt, point, and sweetness. Natural at everything (we wouldn't breed a dog that wasn't). Cree is a smart-worker and she can't be fooled by the wiliest grouse or pheasant. She has fantastic puppies and we are thrilled to get a chance to breed her to Ike, almost 10 now. Ike is a gentleman--mannerly, light on his feet, as he glides through the thickest woods effortlessly. He is very bright with an excellent nose and a joy to be around and hunt over.
Cree is due around January 15th, with puppies old enough to go to their new homes approximately March 12th.
Older Pups, Introduced, and Started Dogs
Contact us about the possibility of an older pup, an introduced, or a started dog. Occasionally we may have something available.
Llewellin Setters for Adoption
Contact us about the possibility of adopting a Llewellin Setter puppy or older dog. Occasionally we know of something available that might be an older, retired dog or a pup with special needs (for example, deafness). Let us know what you might be looking for/what you can handle, etc. Dogs for adoption are usually free, except for transportation costs, etc. Any issues are not life-threatening, dogs are in excellent health.