Laurel Mt. Llewellin Setter Puppies
Laurel Mt. Llewellin Setters are DNA-certified and registered with the Field Dog Stud Book.
We sell to hunting/falconry/trial families only. No "pet-only" homes, While the Llewellin Setter is a most-excellent companion and family dog, they are hunting dogs first.
When purchasing a pup from us, you will receive a guaranteed healthy puppy with excellent bird dog potential. We only breed dogs if they are of excellent health and have proven themselves as an excellent hunter in the field. We own and breed only from the best-producing Llewellin Setter lines—lines that consistently have been proven to produce excellent bird dogs. We have dedicated the rest of our lives to the preservation of this amazing breed of upland bird dog of which we feel no other compares.
Laurel Mt. Llewellin 8-week old puppies are $1,100 (cash price), male or female, any color, unless otherwise noted. Puppy prices increase at 10, 12, and 14 weeks. Deposits are $250.
Be sure to check out the Life With Llewellin Setters Blog for all the latest news, photos, articles, etc.
Click here for information concerning deposits/picking policy/reservations/ and flying your Llewellin Setter Puppy.
Available Llewellin Setter Puppies
Two absolutely gorgeous and darling boys left!

"Hank" Orange Belton Male

"Bear"
Puppies whelped December 20th, 2014 and are able to leave for their new homes. Currently $1,200. The pups have had three rounds of puppy shots and all dewormings. See many more photos of the pups on the Flicker Gallery.
Expected Litters
Santana & Cowboy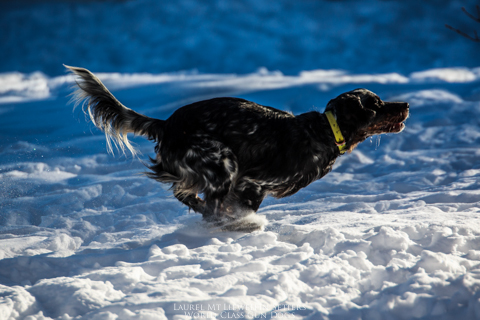 Santana x Cowboy: Puppies expected early July 2015-going to new homes end of August 2015. These will be very stylish, colorful, beautiful pups with unbeatable bird dog potential. Contact us to make a reservation with deposit. Reservation/Deposit/Picking/Flying information here.


More breeding announcements coming soon...
Older Pups, Introduced, and Started Dogs
Contact us about the possibility of an older pup, an introduced, or a started dog. Occasionally we may have something available.
Llewellin Setters for Adoption
Contact us about the possibility of adopting a Llewellin Setter puppy or older dog. Occasionally we know of something available that might be an older, retired dog or a pup with special needs (for example, deafness). Let us know what you might be looking for/what you can handle, etc. Dogs for adoption are usually free, except for transportation costs, etc. Any issues are not life-threatening, dogs are in excellent health.