Laurel Mt. Llewellin Setter Puppies
Laurel Mt. Llewellin Setters are DNA-certified and registered with the Field Dog Stud Book.
We sell to hunting/falconry/trial families only. No "pet-only" homes, While the Llewellin Setter is a most-excellent companion and family dog, they are hunting dogs first.
When purchasing a pup from us, you will receive a guaranteed healthy puppy with excellent bird dog potential. We only breed dogs if they are of excellent health and have proven themselves as an excellent hunter in the field. We own and breed only from the best-producing Llewellin Setter lines—lines that consistently have been proven to produce excellent bird dogs. We have dedicated the rest of our lives to the preservation of this amazing breed of upland bird dog of which we feel no other compares.
Laurel Mt. Llewellin 8-week old puppies are $1,100 (cash price), male or female, any color, unless otherwise noted. Puppy prices increase at 10, 12, and 14 weeks. Deposits are $250.
Be sure to check out the Life With Llewellin Setters Blog for all the latest news, photos, articles, etc.
Click here for information concerning deposits/picking policy/reservations/ and flying your Llewellin Setter Puppy.
Available Llewellin Setter Puppies!
Santana & Cowboy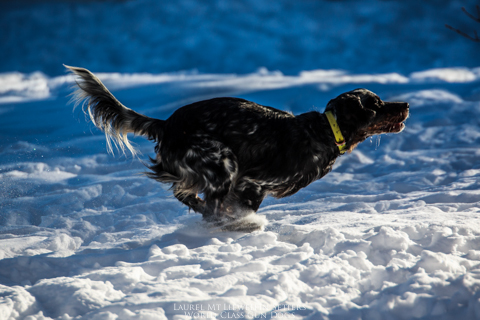 Available: "Belle" this absolutely gorgeous, sweet, stylish, perfect female!
Belle is 8 weeks old and ready to go!
Santana x Cowboy: Puppies whelped July 1st, 2015-ready to go to their new homes August 26th, 2015. The pups are gorgeous, very stylish, colorful, with unbeatable bird dog potential. See the litter page.
Note: Due to a late cancellation, there will be one female available.
Tori x Steele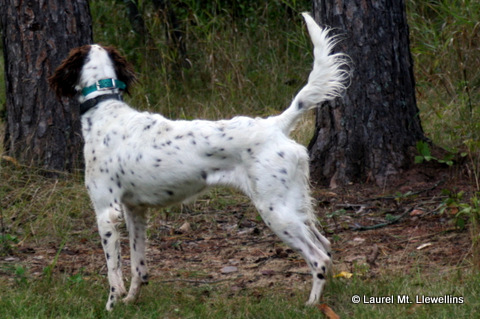 Tori x Steele. These fantastic pups whelped August 3rd, 2015, puppies going to new homes around September 28th, 2015. We've been waiting for this breeding! Tori and Steele are lovely Llewellins. Their style and class take my breath away and their natural abilities--as any of our breedings--are par to none. These pups will be on the larger end of the Llewellin Setter spectrum. Tori is 50lbs, Steele 48lbs. Tori is a tall, lean, hunting machine. Steele is the sweetest, classiest, go-get 'um boy. I love this dog. See the litter page for puppy photos--now available!
Expected Litters:
Kea x Ranger
Kea is one of the most darling little things you've ever seen. Everyone that has ever met her wants to take her home. Don't let her size fool you, though because she's a little ball of dynamite, out of Lady Bird and Ike. She is one of the most agile dogs I've ever seen; so light on her feet that you barely hear her. So natural, so sweet, incredibly smart, and absolutely bird crazy! It sounds like I say it all the time, but all I did with her is take her to the woods--she's a natural at everything.
Ranger is the same--he's a sweet, fast, little dog and I taught him nothing. Just took him to the grouse woods. He has a lovely disposition, is fast and light on his feet, hunts brilliantly at a lovely range. Ranger's got it all.
Puppies due around September 8th, 2015, able to go to their new homes the first of November 2015. Contact us to make a reservation with deposit. View Reservation/Deposit/Picking/Flying information here.
Older Pups, Introduced, and Started Dogs
Contact us about the possibility of an older pup, an introduced, or a started dog. Occasionally we may have something available.
Llewellin Setters for Adoption
Contact us about the possibility of adopting a Llewellin Setter puppy or older dog. Occasionally we know of something available that might be an older, retired dog or a pup with special needs (for example, deafness). Let us know what you might be looking for/what you can handle, etc. Dogs for adoption are usually free, except for transportation costs, etc. Any issues are not life-threatening, dogs are in excellent health.