Laurel Mt. Llewellin Setter Puppies
Laurel Mt. Llewellin Setters are DNA-certified and registered with the Field Dog Stud Book.
We sell to hunting/falconry/trial families only. No "pet-only" homes, While the Llewellin Setter is a most-excellent companion and family dog, they are hunting dogs first.
When purchasing a pup from us, you will receive a guaranteed healthy puppy with excellent bird dog potential. We only breed dogs if they are of excellent health and have proven themselves as an excellent hunter in the field. We own and breed only from the best-producing Llewellin Setter lines—lines that consistently have been proven to produce excellent bird dogs. We have dedicated the rest of our lives to the preservation of this amazing breed of upland bird dog of which we feel no other compares.
Laurel Mt. Llewellin puppies start at $1,250 (cash price), male or female, any color, unless otherwise noted. A non-refundable (but transferrable to another litter) deposit of $400.00 is required to reserve a sexed puppy from a future litter. The next payment of $400 is due after the litter is born and the puppies turn 3 weeks old. Final payment (of $450) is due as soon as your "pick" your puppy at 6-7 weeks of age. Flight fees and any associated additional fees are due before your puppy can fly or be picked up.
Note: We do not allow puppies to leave until they are 10 weeks old. Our puppies receive their first vaccination at 8.5-9 weeks of age. So they need at least 7 days to build their immune systems up before we will allow them to leave.
Be sure to check out the Life With Llewellin Setters Blog for all the latest news, photos, articles, etc.
Click here for information concerning deposits/picking policy/reservations/ and flying your Llewellin Setter Puppy.
Expected Litters:
A repeat breeding. Excellent, natural, and gorgeous puppies. Right in the middle, size-wise (Cree is 40 lbs, Count 48lbs). Natural hunting and retrieving abilities with the sweetest personalities! Cree is due approximately August 20th, with puppies able to leave mid October 2016.
Planned Litters
Rue x Cowboy
Rue x Cowboy: Small-medium-sized dogs. Colorful, darker, tri-colors, hoods. Rue should come into heat any time now. Click here for this litter's pedigree. Contact us to make a reservation with deposit on the Rue x Cowboy litter. Two female reservations and two male reservations currently available for this fantastic breeding.
Current Litters
Mia x Count
Mia x Count. Medium-sized dogs. Repeat breeding. Orange beltons, tri-beltons, medium-heavy ticking.
Mia whelped her puppies Monday, July 18th, 2016. Reservations for females available!
Addison x Cowboy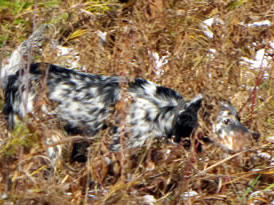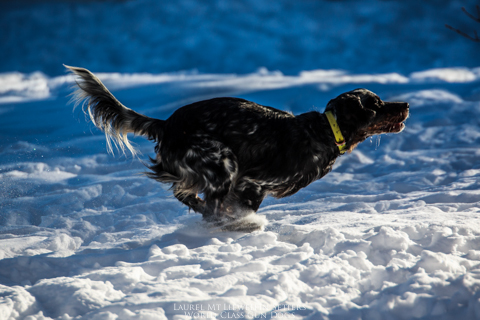 Addie by Cowboy: Small-medium dogs. Repeat breeding. Colorful, darker, tri-colors. Masks/hoods. Absolutely gorgeous puppies with the most natural ability, drive, intelligence and tons of sweet, sweet personality.
Addie's puppies were born on July 3rd.
Addie will be officially retired from breeding after this litter.
All puppies from this litter are reserved.
Maddie x Cowboy
Maddie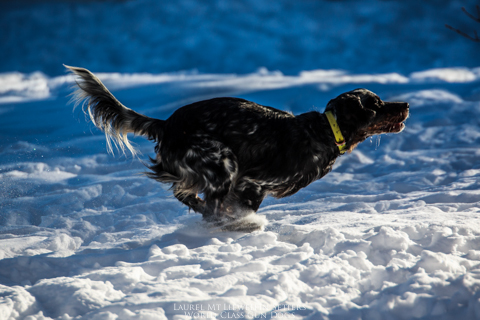 Cowboy
Maddie whelped her puppies June 8th, 2016. Puppies will be able to leave for their new home at 10 weeks of age on/after August 17th, 2016. All puppies from this litter are sold.
Repeat breeding. Absolutely gorgeous puppies that live to hunt. Stylish, Natural. Wow. Tori is 50lbs, Count 48lbs. This breeding produces a dog on the slightly larger end of the Llewellin Setter size. Adult males approximately 55lbs, females approximately 45-50 lbs. Absolutely lovely. All Puppies from this litter are currently reserved.
Puppies whelped May 20th, 2016.
Llewellin Setters for Adoption
Contact us about the possibility of adopting a Llewellin Setter puppy or older dog. Occasionally we know of something available that might be an older, retired dog or a pup with special needs (for example, deafness). Let us know what you might be looking for/what you can handle, etc. Any issues are not life-threatening, dogs are in excellent health.

Older Pups, Introduced, and Started Dogs
Contact us about the possibility of an older pup, an introduced, or a started dog. Occasionally we may have something available.